Several new elementary school teachers in Baton Rouge are adopted each year and provided financial support to purchase start-up materials and supplies for their classrooms. Since 1997, a total of 517 new teachers from 67 different schools have received over $202,000 in gift certificates to School Aids.

This year promises to be the best year ever. Teachers complete applications for Adopt-A-Teacher funding; a panel of judges from throughout the community reviews the applications as part of the selection and allocation process. Presentations to the newest group of teachers will be made at a meeting of the East Baton Rouge Parish School Board. In addition to the Exchange Club providing substantial funding, this project has been successful as a result of the generous support of other local organizations, businesses and individuals.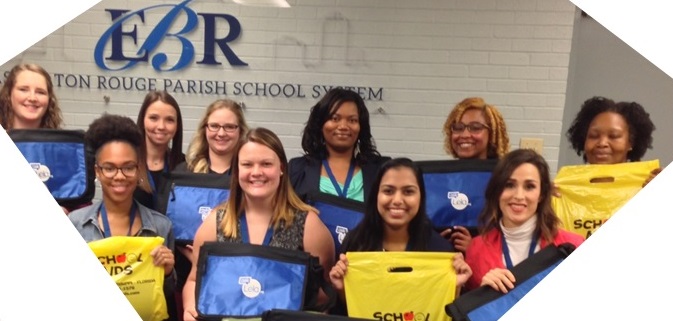 2017 Adopted Teachers at the EBR School Board Meeting
Front Row – Left to Right: Rosalyn Walker (Audubon), Mary Black (Sharon Hills), Madiha Bobat (Woodlawn) and Andrea Falcon (Howell Park).
Back Row – Left to Right: Krista Meinweiser (Wedgewood), Candice Neames (Broadmoor), Caitlin Nunez (BRCVPA), Doneicisa Robinson (Merrydale), Dereka Washington (Mayfair Laboratory), and Karla Weaver (Glen Oaks Park).
21th ANNUAL (2017) ADOPT-A-TEACHER
A Community Service Project of
The Exchange Club of Baton Rouge
With the generous support of the following Partners
Businesses
School Aids
Neighbors Federal Credit Union
Gerry Lane Chevrolet
Capital One Bank
Louisiana Lottery Corporation
Juban Insurance Group
Giraphic Prints LLC
Louisiana Companies
Top Hat
Safeguard Promotions & Printing
Non-Profits
Exchange Club of Baton Rouge
East Baton Rouge Lions Club
Baton Rouge Area Society of Psychologists
Louisiana Education Loan Authority
Individuals
Brenda L. Dawson, Ph.D., Christine Angelloz, Ph.D.,
Greg Gormanous, Ph.D., Murelle Harrison, Ph.D.,
Randall Lemoine, Ph.D., Richard M. Flicker, Ph.D.,
Lillian Grossley, Kathy Blackman, Alma Geathers,
Scott & Nadine Couper, Connie Bernard,
Dr. Claire Advokat
Sincerest appreciation to Beanka Williams and Allison Brown of the EBRP School Board Office
East Baton Rouge Parish School Board website: www.ebrpss.k12.la.us